Format for Slide Labels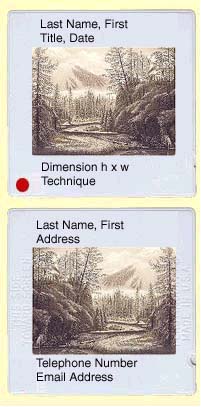 Top = front of slide, middle = back of slide:
Jean Cencig, Rivière Boréale, 2006. Etching and aquatint, 6 x 8".
Bottom = slide with vertical image:
Kelly Nelson, Omnivour's Dilemma, 2006. Lithograph, collage
with broccoli and cauliflower, thread and punch, 10 x 8".
See Soap Box Prints.
Although many competitions still require slide labels in their own obscure formats, there is a standard. It's the one developed by slide librarians at college and university libraries and is in use at the Library of Congress. The information should appear in this order on the label:
artist's name (last name, comma, first name)
title of work
date of work (year)
dimensions of the image (height x width x depth)
specific technique (e.g. etching and aquatint, not "print")
(Many slide libraries also use a top line or color code to indicate the cabinet or category — a quick way to sort Pre-Columbian Art from 19th century Painting — then continue with the standard label.)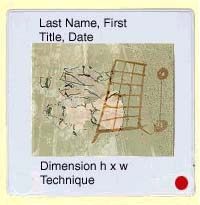 If you don't use this format, don't complain when your slides are never used because they couldn't be found, having been filed under J, L, F and U (John, Landscape with trees, Figure study #3 and Untitled) instead of Doe, John.
The dot (red dots are easy to see, but you can be creative and use blue, green, whatever) goes in the lower left corner when the image is upright. When slides are correctly oriented in a carousel, the dots will be visible (in the upper right corners) and the projectionist can quickly confirm that all are in place correctly. Arrows along the side or top disappear into the slot and can't be seen. On the other hand, the artist's name also disappears into the slot, which is fine if the juror for a contest is looking at the image and not supposed to be influenced by the artist's name.
Your name, address and telephone or e-mail should be on a label on the back.
Label photographs with the exact same information and in the same order, all on labels on the back. If it's a black and white photograph of a color artwork, be sure to say so (e.g. for technique, "color woodcut").