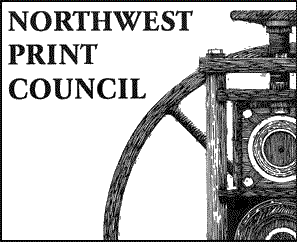 phone: (503) 525-9259 fax: (503) 423-8255
---
BACKGROUND The Pacific Northwest has been a center of interest in printmaking for many years. American artists, curators and collectors may recall Seattle's annual "Northwest Printmakers" (a long-running juried show which began as a regional event but attained international scope) started by the late Glen Alps, Prof. of Printmaking at the U. of Washington. Its discontinuance in the early 1970s left printmakers and print enthusiasts with diminished opportunities for sharing new images, technical innovations, and creative ideas.
---
HISTORY In 1981, artists in the Portland area began discussing the need to revitalize the Northwest printmaking scene, and for educating the larger community about original graphics. The group included Gordon Gilkey, Jim Hibbard, Manuel Izquierdo, George Johanson, LaVerne Krause, and Jack McLarty. A steering committee was set up, a board formed, and soon 100 members were recruited for a new professional organization. All were established practitioners, many of them teachers in the region's colleges and universities. Our sphere of membership has expanded to encompass Alaska, Alberta, British Columbia, Hawaii, Idaho, Montana, Oregon and Washington.
The first President was George Johanson. Our inaugural members exhibition was at the Portland Art Museum in 1982. Since its inception, the Council has arranged exchange print shows with sister organizations in other countries, e.g., Argentina, Australia, Japan, Norway, People's Republic of China, and Germany. We've also staged exhibitions in many communities around the Northwest and other parts of the USA. Our first regional juried print show was held last year in Portland. NWPC's commitments as a tax-free, non-profit organization are kept by having a variety of educational outreach programs, such as print workshops for teachers, educational displays, and conferences open to the public.
We've produced several print portfolios, including a widely-collected folio of works by Board members. In 1997, another major project came to fruition: *Publication of our Founders Portfolio consisting of 17 prints by the people who helped to start our Council. In this collection are many NWPC artists of international repute. This project is not only artistically noteworthy, but it also constitutes an important document in the history of contemporary American prints.
As membership and activities expanded, NWPC relocated several times. We are now in the Portland Art Museum's North Annex Building, where we enjoy excellent visibility and convenient access to the Museum's famous Vivian and Gordon Gilkey Center for the Graphic Arts.
* Some folios are still available for purchase at $3500, handsomely packaged by master bookbinder Sandy Tilcock. Interested persons may contact our office for an illustrated prospectus.
---
STRUCTURE AND MEMBERSHIP NWPC is an all-volunteer organization. Its administrative structure is: an Executive Committee (Pres., V.P., Sec., Treas.), a Board of Directors (from around our region), and our voting members: artist and associate members, currently totaling around 250. Associate membership is open to anyone, and includes collectors, scholars, students (mainly college level), and corporate sponsors. Individual dues are $50/year (students: $25) and corporate sponsors, $500 and up; associates enjoy a 10% discount on NWPC works and upon renewal of annual dues may select a free print from among several special editions by artist members.
NWPC's quarterly journal, Working Proof, is sent to all members, as well as to many institutions and organizations around the country. It contains technical articles, print news, monographs on artists, essays related to our field, notices of coming events, etc. We'd be pleased to consider any originally written print-related articles for publication. (Sorry, no honoraria available.)
Artist members are admitted through jury process, which occurs each April. The jury represents both artist and associate members, and is overseen by the Vice President. Artist applicants must reside in one of our regional states or provinces, but their member status may be retained if they later move out of the area. Materials should be prepared and sent in late March, to arrive in time for consideration.
To apply send a rÚsumÚ reflecting professional-level activity in the field (exhibitions, awards, educational background, conferences attended, publications, etc.) and a folio of at least 6 recent matted pieces to show current artistic direction. All work must be original, involving some direct manipulation of tools or materials. Monotypes, mixed-media works, and pieces with collaged elements or digitally-generated features are acceptable, but reproductions, photographs, and work completed under instruction are not eligible. Due to limitations in storage and shipping, we cannot accommodate 3D work or pieces larger than 28" x 36" (outer mat size). We don't oppose such expressions; this limiting policy is just a logistical necessity. Please write or e-mail NWPC if you require further information about this or other matters.